Donation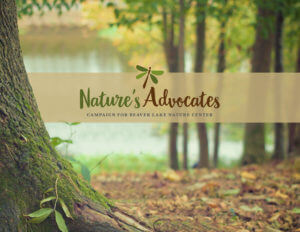 Become a Nature's Advocate today!
The Friends of Beaver Lake believe that exhibits inside the Visitor Center will reinforce the experience our visitors have outside on the trails.  We believe that these exhibits will engage our community to have a deeper appreciation for, and richer experience with nature.
The Friends of Beaver Lake Nature Center have commissioned a design firm to create interactive exhibits, utilizing a variety of methods and learning styles to reach people from different backgrounds, ages, and with different learning needs.  These enhancements include floor to ceiling graphics, multisensory stations that illuminate exciting facts about the wildlife and plant life at the nature center, as well as a life size beaver lodge for children to crawl through.
WAYS OF GIVING
The Nature's Advocates Campaign is an initiative of Friends of Beaver Lake Nature Center for the benefits of Beaver Lake Nature Center.
Lake Loop Advocate ……………… $50,000+
Three Meadows Advocate ……… $30,000 – $49,999
Deep Woods Advocate ………….. $18,000 – $29,999
Woodland Advocate ………………. $10,000 – $17,999
Bog Advocate ………………………… $3,000 – $9,999
Pine Meadows Advocate ……….. $1,000 – $2,999
Hemlock Hollow Advocate …….. $500 – $999
Lakeview Advocate ……………….. up to $499
**To make a gift of stock, please contact Elizabeth Quilter at elizabeth@efquilter.com for easy instructions.**