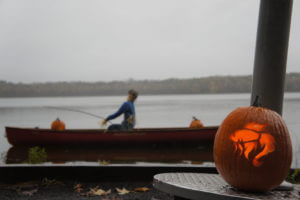 ENCHANTED BEAVER LAKE
October 26 – 29, 2017
(Thursday – Sunday)
6:00pm – 8:30pm

Over 500 specially carved jack-o-lanterns of different shapes and sizes with glowing luminaria light the way along two winding, wooded trails greeting visitors as they venture through the darkness at the award-winning, Enchanted Beaver Lake.  Everything is magical and nothing is scary.
Face painting, magic shows, storytelling, and live birds of prey are all a part of this magical experience, one that is truly unique to Central New York. The Friends of Beaver Lake will be selling hotdogs, donuts, caramel apples, popcorn and cider.
ADVANCE PARKING PASSES REQUIRED
$5 per vehicle
Parking passes are:
Date specific
Non-refundable
Non-replaceable
Non-exchangeable
The parking pass is what guarantees you parking on a specific night, and without one, you will not be permitted to enter the event.
Drop-offs at the entrance are NOT permitted.
Admission Tickets:
*Admission tickets are purchased at the gate.*
NOTE: Cash only is accepted during the event.
$3 per person (under 3 years old are free).
The Nature Center will close at 3:30pm and reopen at 6:00pm for the event. 
Parking lot will open at 5:30 pm for Enchanted Beaver Lake.
Parking is allowed in the parking lot ONLY.
Drop-offs are NOT permitted.
PUMPKIN CARVING CONTEST
Sponsored by: Dr. A Gregory Sohrweide, D.D.S.
Carve a creative, non-scary pumpkin and win cash prizes.  FREE to enter.
Bring carved pumpkins to the Nature Center on Tuesday, October 24th, 8:30am-6pm. Judging will be held on Wednesday, October 25th. All pumpkins will be displayed during Enchanted Beaver Lake.
For more information, please click here.